Moringa Drumstick Soup
Drumstick Sambar

The Moringa Tree Produces a Seed-Pod Vegetable known as the 'Drumstick'.
The Moringa Tree is also known as the Drumstick Tree around the world.
Chop the young green drumsticks that contain immature white seeds inside to make a drumstick soup. about 2"-3" in length.
Then, Boil the chopped drumsticks in water for 15 minutes.
After that, add you favorite chopped vegetables and add a 2 cups of coconut milk and simmer everything for an additional 30 minutes.
Moringa Drumstick Sambar is a great mineral rich soup millions of people enjoy around the world.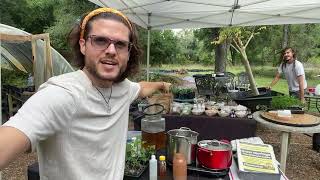 Moringa + Mint Tea

Moringa Tea is a great way to benefit from using moringa leaves.
Start with 1-2 liters of water in a pot.
Bring water to a high heat, it doesn't need to boil but heat the water gently.
Then, remove pot of water from the heat.
Once the hot water is removed from the heat, add your ingredients. You can use a tea ball strainer or add the leaves loose and strain later.
Add 1-2tbsp of dried moringa loose leaf for every Liter of Water.

Add, 1tbsp of dried mint leaves

Add 1-2tbsp of honey
Add anything else you may like, this tea can be a base for other flavors, ex: I like to add 1 tbsp of loose yerba matte as well.
Let the ingredients steep in the pot off the heat for 10 minutes.
If you add lemon, it may cause the tea to spoil faster, but can be a great additive if you are drinking the tea same day.
Then, strain any loose leaf away from the tea, using strainer.
Enjoy the tea warm or put in the fridge to chill.
Watch This Video For More Clarification on How To Make Moringa Tea : https://www.youtube.com/watch?v=1zOPeOjJOG4